STYLPRO Four Litre Beauty Fridge
Regular price
Sale price
£54.99 GBP
Unit price
per
Sale
Sold out
It's not only people who need their beauty sleep...
From night creams to nail polish, your beauty products can now keep cool and collected in our first ever STYLPRO 4 Litre Rose Gold Beauty Fridge. Designed for glamour, this cosmetic refrigerator is perfect for storing your favourite beauty essentials.
Watch the STYLPRO Beauty Fridge in action
 EAN: 5060288331468
How it works

The portable makeup fridge is specifically designed to extend the longevity of your makeup and skincare products. With its built-in low temperature protection, it ensures that your products never spoil or freeze, maintaining an optimal temperature above 2°C. Refrigerating your beauty products not only extends their shelf life but also prevents bacterial growth, keeping the ingredients at optimal freshness.

This mini cosmetics fridge does more than just cooling. It has additional heating capacities, making it suitable for warming up products like heating packs and hand warmers. Whether chilled or warm, your beauty regime will remain fresh with our portable skincare fridge.

Keep your beauty products at their best and enjoy a touch of glamour.
Benefits and features

⭐Cools contents up to 20°c below room temperature
⭐Low temperature protection prevents products from spoiling
⭐Chilling and heating settings
⭐Works in both UK and EU/USA
⭐Built in noise reduction
⭐Rose Gold detail
⭐Recycled and recyclable packaging
Includes

✅ 1 x STYLPRO Beauty Fridge
✅ Power consumption: 48W

How to use

1. Ensure the 'Cold Hot Switch' is in the OFF position.
2. Ensure the 'Power Switch' is in the AC position.
3. Depending on your region, plug the UK, USA or EU power cord into the 'Household Socket' at the back of the fridge.
4. Plug the other end of the power cord into the mains socket.
5. To cool, set the 'Cold Hot Switch' to Cold. A green light will show. For best results, we suggest putting pre-chilled items into the fridge. Fill fridge with beauty products suitable for chilling (check the label for storage instructions).* It will take 2 or 3 hours to reach maximum cooling temperature.
6. To heat, set the 'Cold Hot Switch' to Hot. A red light will show when the fridge has started to warm up. Place heat-friendly beauty products such as hand-warmers into the fridge.

Additional Information

The STYLPRO Beauty Fridge Packaging is made from:
📦 Recycled Cardboard
🌱 Plant-Based Ink
Making the packaging 100% Recyclable ♻️

Dimensions
External: 190*280*260mm
Internal Dimensions: 135*200*150mm (4 litre)

Power consumption: 48W

Products suitable for refrigeration:
❄️All natural & organic products
❄️Nail polish
❄️Serums, creams, and moisturisers
❄️Toners and sprays
❄️Sheet masks
❄️Sun cream
❄️Vitamin C containing products
❄️Liquid makeup (foundation, liquid eyeliner, mascara etc)
❄️Lip & eye pencils
*Always check the label for storage instructions & ingredients lists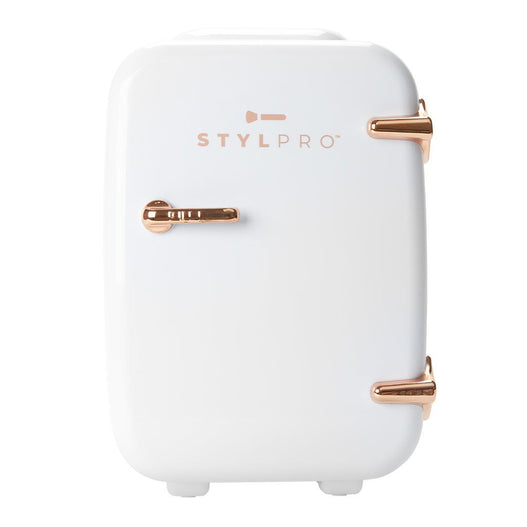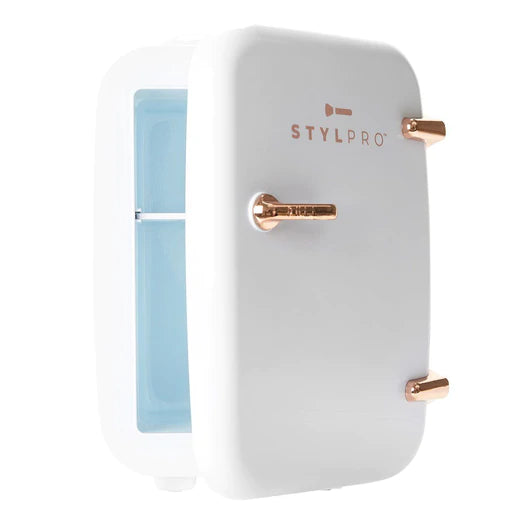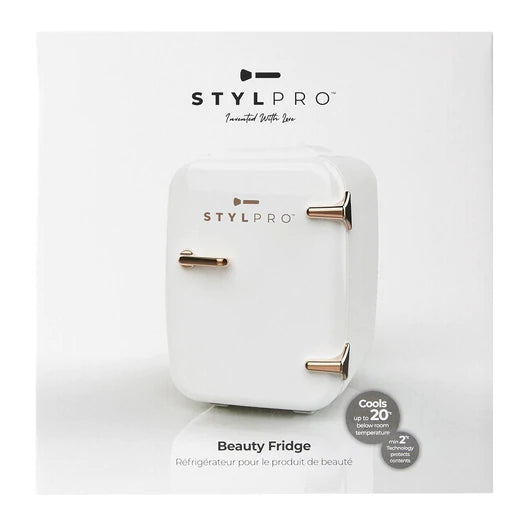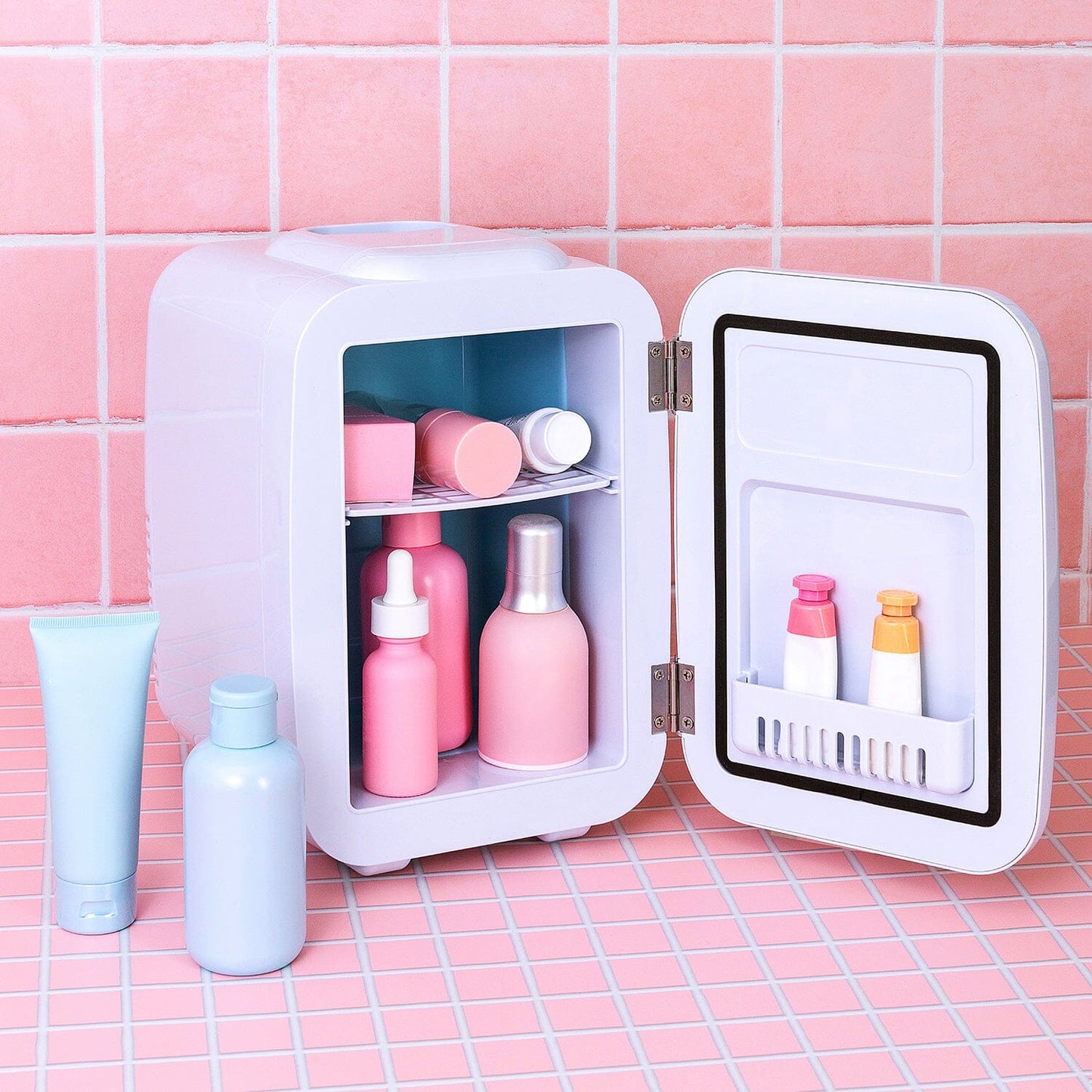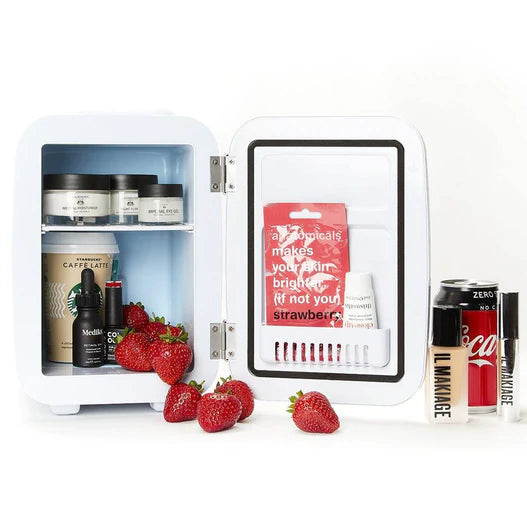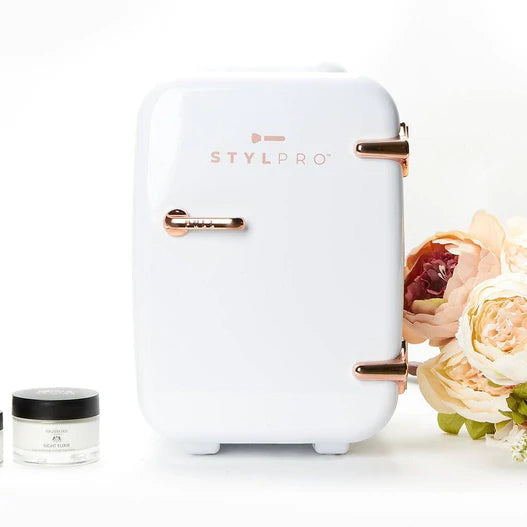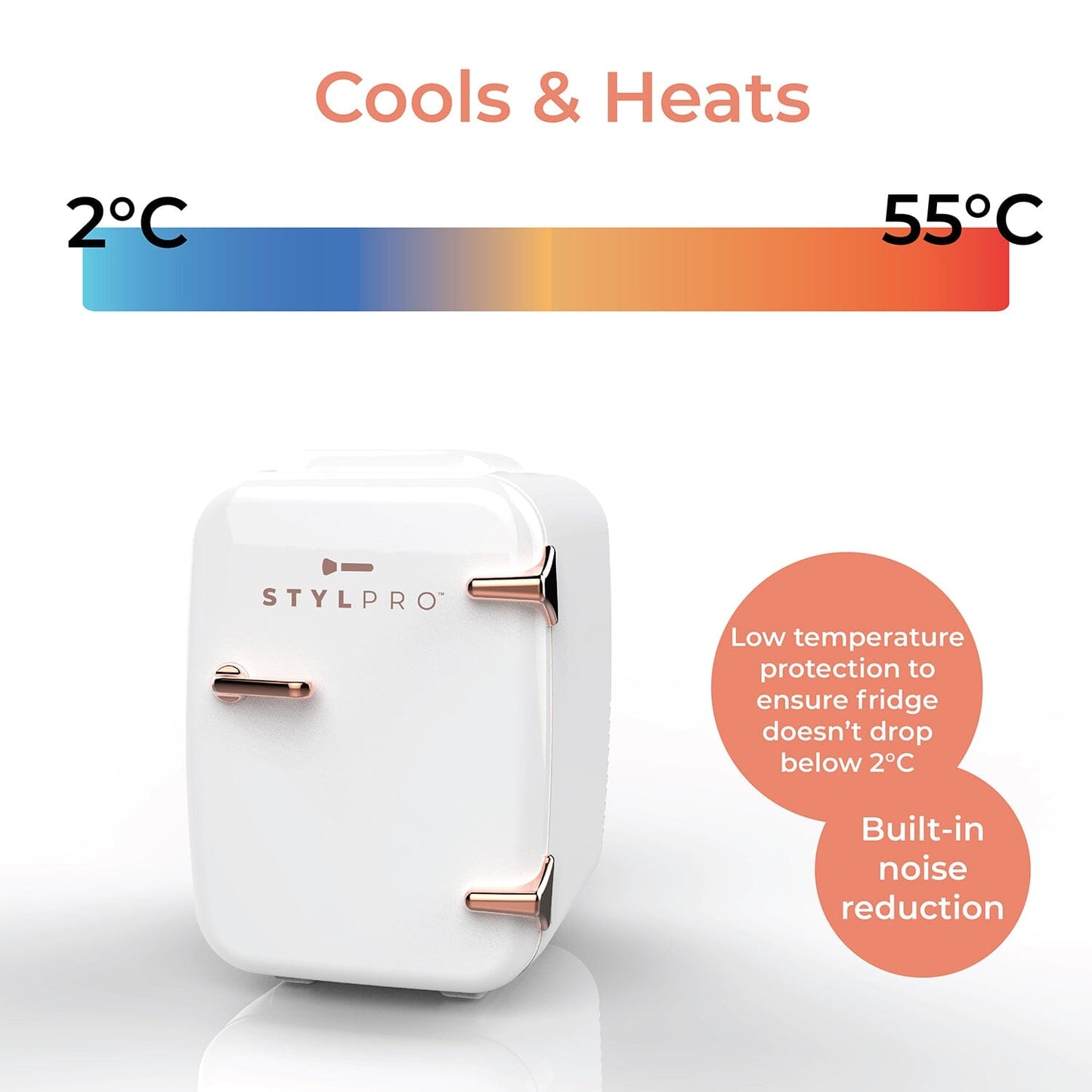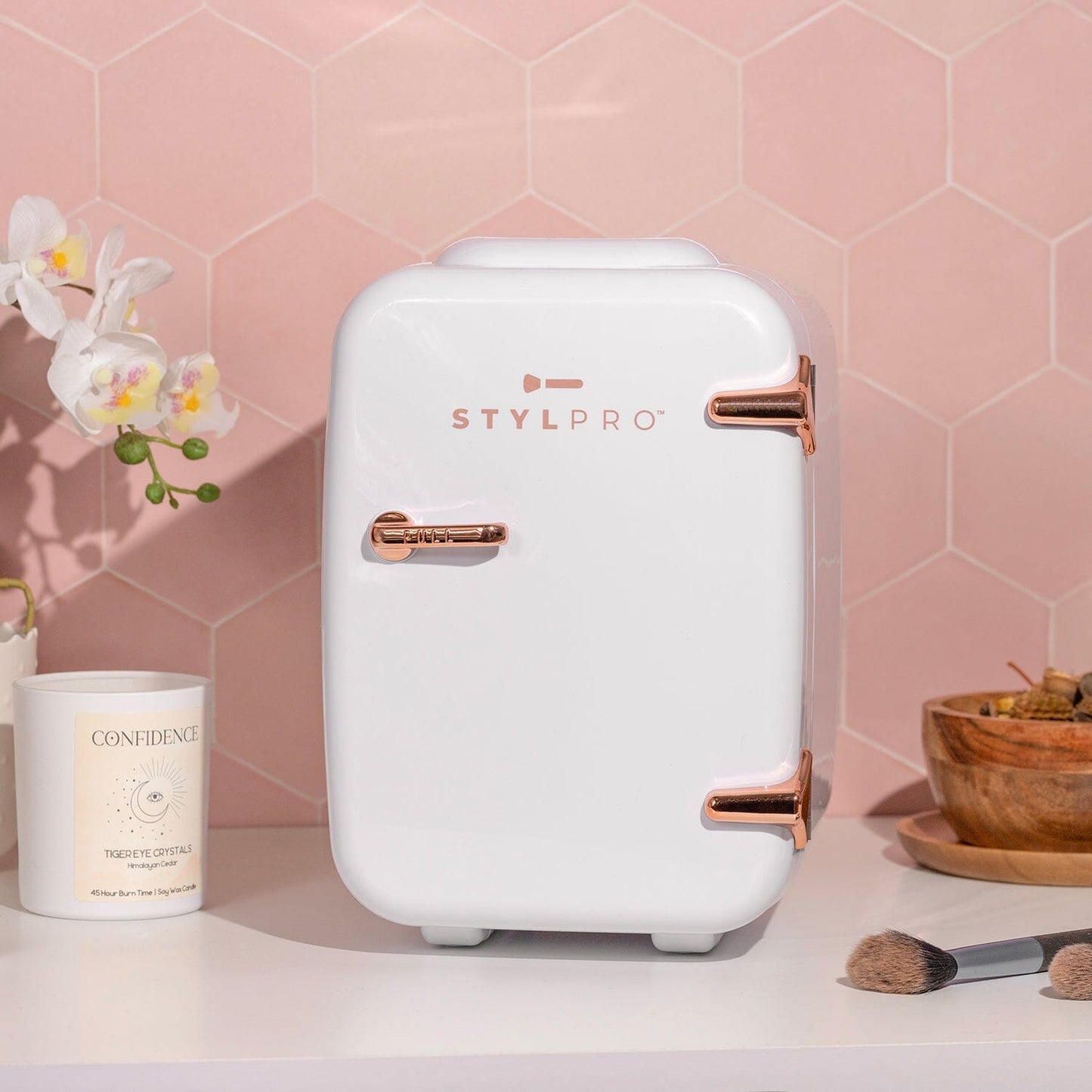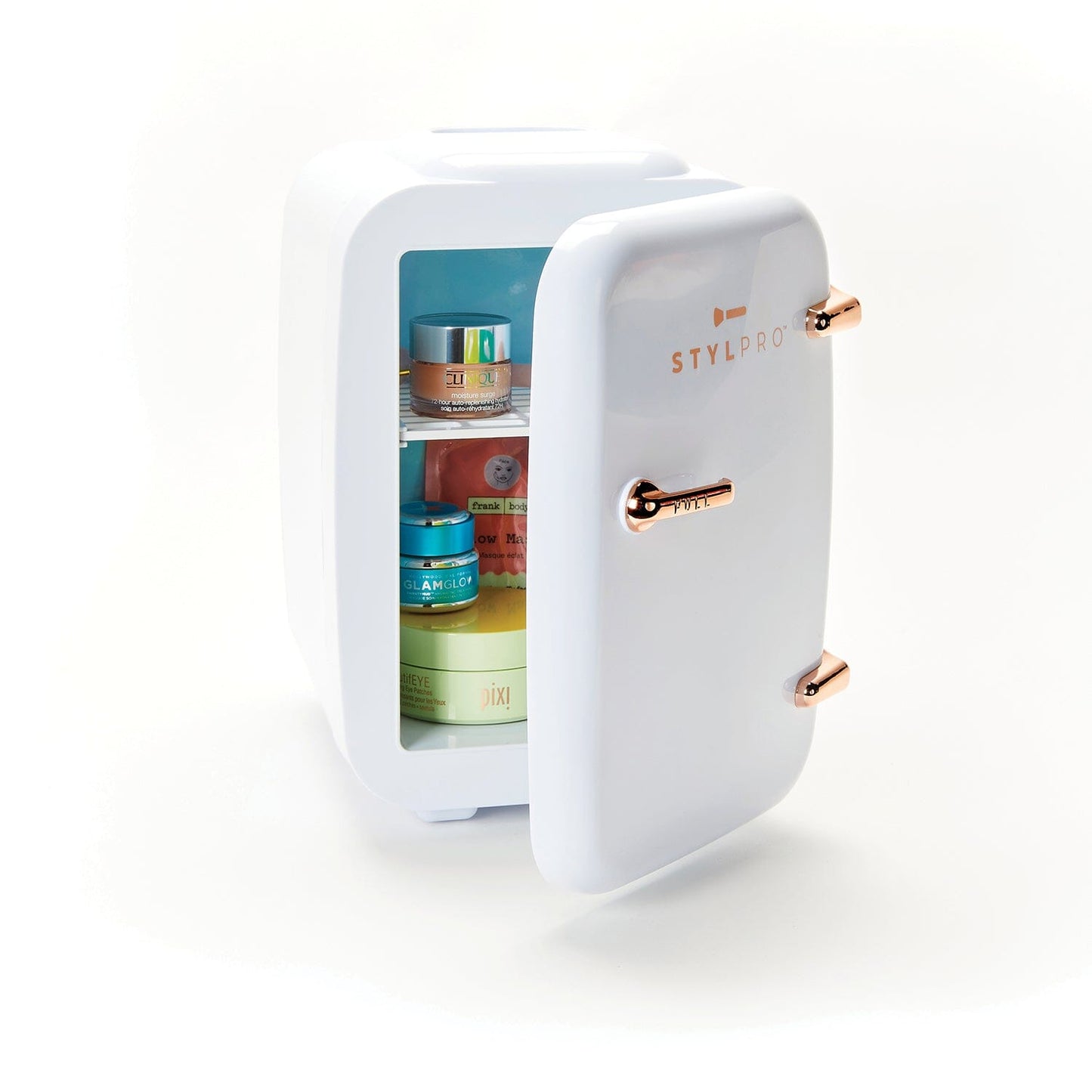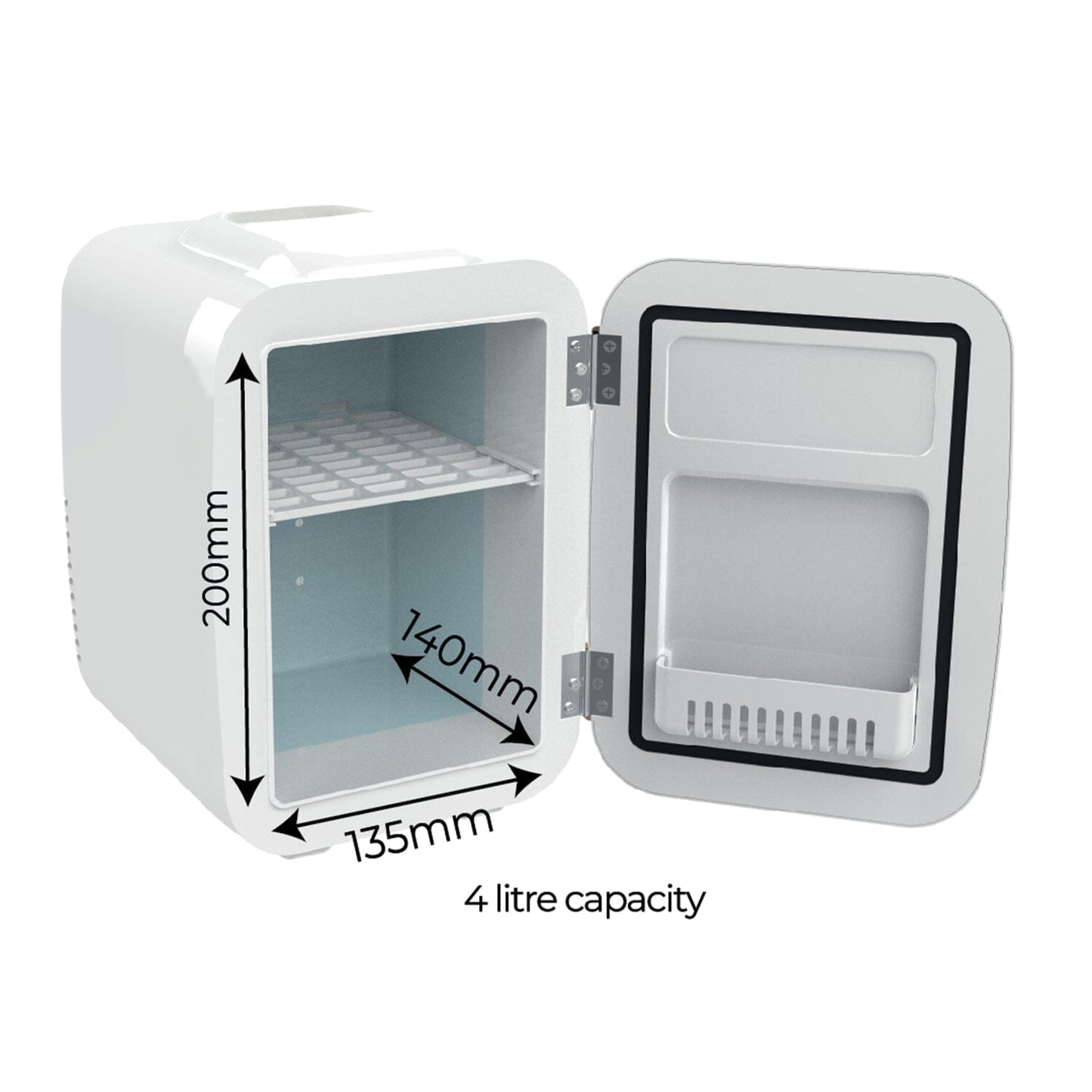 Beauty accessories invented with love
FAQs: White & Rose Gold Beauty Fridge
The STYLPRO 4 Litre Beauty Fridge chills products up to 20°C below room temperature. Products never freeze or spoil as our built in low-temperature protection always keep internal temperatures above 2°C.
The STYLPRO 4 Litre Beauty Fridge not only chills products but can also heat products and packs up to 45-55°C.
Our fridge comes with a standard UK mains power plug and standard EU adapter plug.
It takes up to 2-3 hours for the STYLPRO 4 Litre Beauty Fridge to reach is maximum temperatures, whether that be in chilling or heating mode.
You can store up to 4 litres of products in the fridge's shelves or built in door basket.
The STYLPRO 4 Litre Beauty Fridge is designed to keep beauty products fresh, by preventing bacterial growth and preserving ingredient quality. We recommend keeping liquid makeup, skincare creams, masks, Vitamin C containing products, natural & organic products, nail polishes and sun creams in the fridge. We do not recommend storing food and drink with your beauty products.
Please find a downloadable version of our instructions here.
The Cooling Chip at the back of our fridge is integral to keeping internal temperatures in check, which can reach as low as 2-3°c when ambient temperatures are at 25°c. However, at the site of the Cooling Chip temperatures can reach as low as 0°c and therefore condensation may freeze and form small amounts of frost. To remove any build up of frost at the Cooling Chip, turn off your fridge and leave to defrost with the door open. Wipe away any frost and towel-dry the area. This will prevent the cooling function from being effected in future use.
Your Beauty Fridge can be kept wherever you want it to be, as long as there is a nearby power source. Please ensure that you are not covering or blocking the back of the Beauty Fridge at any time. This is where the fan is located and should not be blocked at any point or this could lead to your Beauty Fridge breaking.